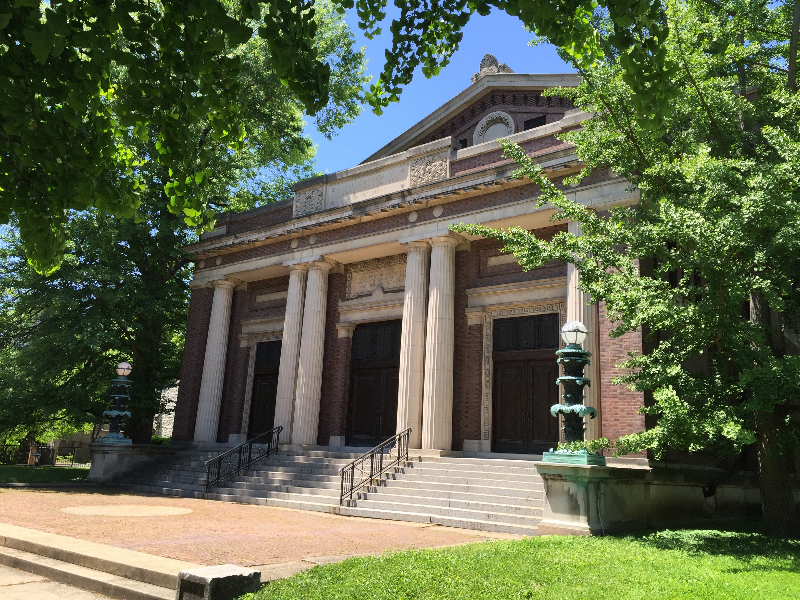 Our Church Building Is Reopened,
But Our Services Are Also Continuing Remotely
First Church of Christ, Scientist, has reopened its building for services. In accordance with St. Louis City guidelines, those entering the building will be required to wear face masks and practice social distancing.  We will continue to offer our services by Zoom and telephone call-in. The steps outlined below will allow you to participate remotely in our services held Wednesday night at 7:30 p.m. and Sunday morning at 11 a.m. if you choose not to attend in person.
We are reopening our Sunday School and Children's Room for in-person attendance for the months of April and May, beginning Sunday, April 4, 2021. Sunday School classes will be at 11 a.m., the same time as the church service.
Both Sunday School and Children's Room activities will be held with careful attention to St. Louis City and CDC guidelines, including a requirement that all adults and children, kindergarten and above, wear masks.
If your child would like to join us for Sunday School either as a one-time visitor or a new regular attendee, please email the clerk at firstchurchstl@gmail.com. The clerk will help connect you with the Sunday School superintendent who will work to make sure we have space available for your child.
For now, child care will be offered on Sundays only. The Children's Room will not be open during the Wednesday evening meetings until further notice.
Note: This reopening plan is for the months of April and May 2021. A new plan will be in place for the summer months. Please contact the clerk for more information.
Using zoom.us

Due to copyright restrictions, recording the service is not permitted.
Zoom has instituted a new security level on Zoom meetings so they require a password to join the meeting. Members will receive an email with a link that will include the password. Non-members are invited to email the Church Clerk to receive the password.
Using your phone for audio only:
Call 312.626.6799. Long distance charges may apply.
When prompted for a Meeting ID, enter 420 283 3815 followed by #.
When prompted for a password, enter the password 18661875 followed by #.
Using your computer with an Internet connection:
Click here.
This will open a new web page and ask you to download the zoom.us app. Click the download button and very shortly a new window will open allowing you to connect to the service. You may have to save the app first, and then run it from where you saved it before the new window opens.  Once the app is installed for first use, go to the email from the Church Clerk that has the link for the meeting in it and tap on the link. It should open the ZOOM app and connect you to the meeting.
Using your tablet or smartphone with an Internet connection:
Go to your device's app store and download the free zoom.us app called ZOOM Cloud Meetings.
Once the app is installed, go to the email from the Church Clerk that has the link for the meeting in it and tap on the link. It should open the ZOOM app and connect you to the meeting.
It is optional but encouraged to share your video with the group so we can see your face!
Giving Testimonies during Wednesday evening meetings:
You may submit a testimony for the Wednesday remote testimony meeting by emailing the clerk directly. Testimonies submitted to the clerk will be read aloud during the meeting.
On Wednesdays, people connecting with the Zoom app over the Internet or using a phone number to dial in will be able to share testimonies.
Everyone will be muted during the reading and music portions of the service, but you will have the option to unmute yourself to share a testimony.
If you are connecting by a computer, the mute button will be in the bottom left of your screen. It is a microphone icon and if you are muted it has a red line through it.
On a tablet or smartphone the mute option appears if you tap once on your screen. It will be near the top right corner.
Once you have finished sharing your testimony, please mute yourself again so others can be heard clearly.
Our Reading Room is open again for its usual hours. Attendants will be wearing masks according to building protocol. You are invited to enjoy this space for quiet study and prayer, and to purchase or borrow materials on Christian Science.  See the Reading Room section below for more information.